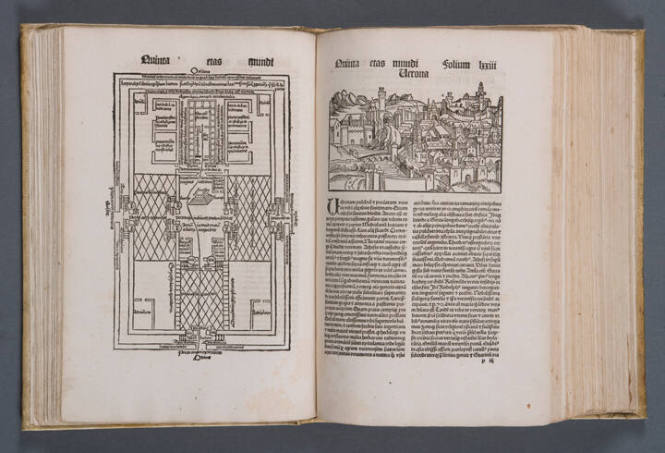 Dimensions:
Overall: 12 1/2 x 8 1/2 x 3 in. (31.8 x 21.6 x 7.6 cm)
Provenance:
Letters of inquiry written after Louis Hyde's purchase of the Hyde Collection copy of the Nuremberg Chronicle (1971.110) are dated 1931. He may have acquired the Augsuburg Chronicle after that purchase, as an interesting supplemental work essentially 'reprinted' based directly on the original version published in Nuremberg. [A search in August, 2011, by intern C. Daly, of Mr. Hyde's transcribed journals for this period, did not find any entries related to the acquisition of the Augsburg Chron. A search of correspondence should be done]

1888: dated notes and the bookplate of Gilbert Richard Redgrave, English, 1844-1924, on the interior cover (see Inscriptions). Redgrave, an architect, art historian and bibliophile was president of the Bibliographical Society (of London) in 1908. His collection of incunabula was auctioned by Sotheby's on May 3rd and 4th, 1926.

ca. 1750 to possibly as early as 1497 (date of publication): An early book collection stamp described under Marks can be found on the fourth page of our copy of the Chronicle. Correspondence in July and August, 2011, with Fr. Rino Sgarbossa of the Biblioteca San Francesco della Vigna has confirmed that the stamp is that of the library at the friary and convent (and church) of San Francesco della Vigna in Venice. The Fransiscan friary library was in existence as early as 1437, the friary itself created in 1256 through the gift of land, including a vineyard, by a Venetian aristrocrat, Marco Ziani. In his replies to my email queries (full copies in object file), Fr. Sgarabossa states that the stamp is definitely that of the friary library and except for minor differences is the design still in use today. In addition he sent a jpg of an entry in a circa 1750 library catalogue describing the Augsburg Chronicle. The friary was confiscated and the library was dispersed ca. 1810 under the Napoleonic suppression of religious orders when the buildings of the friary and convent were turned into military barracks. In his email of Aug 8, 2011 he states "The library was dispersed: depending on the typology, the books are allocated to various 'government' libraries or put out on sale to private customers. It is certainly at this time that the book 'left' our library." Of further note, the design of the present church of San Francesco Alla Vigna is by Andrea Palladio.

Credit Line:
Bequest of Charlotte Pruyn Hyde